Fashion meets architecture on 5th Avenue during New York Fashion Week. 
Glen-Gery showcases popular and new brick products in tandem with HARMONIA NY, a fashion brand that ignites the creative power of self-expression.
This exhibition collides brick with high fashion for the audience to encounter the best of both worlds.
WHEN // Wednesday, February 15th 
6pm | doors open + cocktails
7pm | fashion show
7:30pm | dj + networking 

WHERE // Brickworks Design Studio
445 5th Avenue | NYC 
Designing in Brick: Finishes & Textures
Designing in Brick: Finishes & Textures
Of all the building products commonly used today, brick holds a special place in the lexicon of home design. Like stone, brick's lifespan is measured in centuries. Its wide variety of colors, finishes, and masonry techniques are what continue to make it an indispensable tool for creating texture.
Specifically, brick is perfect for adding variety and dimension to a home. While traditionally it has adorned exteriors, in the last century, masons, interior designers and homeowners have found new ways to bring brick indoors through accent walls, fireplaces, and other features.
Because brick is available in many different finishes, it allows architects, designers, and homeowners to create a wide range of textural effects inside a home.
Four Ways to Mix Finishes and Textures
Layered Texture 
Layered texture involves creating intentional depth within a room, which adds interest and richness. 
One of the most popular ways to accomplish this is with a background brick accent wall. A critical piece of maximizing the impact of such a background, however, is keeping in mind what's happening in the foreground. Choose furniture, fabrics, wall colors, and other materials that create layering in front of the wall 
PRO TIP: For interior brick walls, choose a brick with a smooth finish to make dusting easier. 
Contracting Texture
Contrasting texture is an eternal mainstay of home design trends - it's what draws eyes around a house's interior or exterior and encourages curiosity and delight. 
Use contrasting textures to add visual interest and break up a monochromatic color palette. Look beyond the obvious elements like walls and furnishings. How can you use fabrics, artwork, and object placement to create contrast in a room or on a house's exterior?
PRO TIP: Contrasting textures are by no means limited to textures in the same color family. Be bold - for example, contrast burgundy brick exterior walls with brightly colored fixtures and paint choices. 
Tactile Texture
Tactile texture to a texture you can physically touch - and though you may not always interact with materials by touching them, the visual effect of such textures make an impression. 
Use varied finishes, ranging from smooth to rough, to create dimension in a room. For example, you can use two types of brick finishes to add multiple layers of tactile texture to an interior accent wall. You can also use different brick finishes to create the same effect on a house's exterior. 
PRO TIP: Brick is particularly good at creating tactile texture because of its wide range of finishes: smooth, wirecut, handmade, glazed, etc. 
Visual Texture
Different brick textures and finishes
Brick's wide range of textures and finishes keeps its at the forefront of design trends. Here are some categories from which to choose:
Best practices for adding texture and finishes to design
Keep the following tips in mind:
Don't overdo it.
Too much texture can cause confusion and make a home look busy and unfocused. Determine your style ahead of time and curate your pieces to fit this goal.
Start big and work downward.
Begin by choosing the largest source of texture, and add elements based on that. On a home's exterior, this would be the exterior walls; on an interior, this could be an accent wall, fireplace, or another focal point.
Lean on your designer.
When in doubt, consult a designer — particularly if you are a homeowner taking on a large DIY project. A skilled interior designer can help you plan out your project and make tasteful choices.
Conclusion
Brick is one of the best home-building products for design choices. Not only is it unmatched in durability, but it also added incredible texture to a home's exterior and interior. 
Some of the best ways to create visual appeal are through layered, contrasting, tactile, and visual textures.
Brick is available in a range of finishes and colors, and homeowners and designers can even mix different types to add texture to a room. Glen-Gery produces handmade, glazed, molded, and klaycoat® bricks, among other popular types.
Working with a designer can help you avoid texture overload and can open your eyes to new ways of achieving your goals. Visit a Brickworks Design Studio to receive a one-on-one consultation with a product expert. 
---
You May Also Be Interested In
We Can Help With Your Next Project
Discover the latest + greatest in design trends, industry news & pro tips from pros.
Stone Veneer: Features and Uses
Thin Stone Veneers and Residential Exteriors
With its unique profiles and textures, stone siding can make a home's exterior stand out, adding comfort, character, and beauty. As natural and textured home trends continue to rise, many building pros and homeowners are gravitating towards thin manufactured stone veneer as a way to get the authentic look of stone without the associated cost or difficulty. Using manufactured stone veneer is an easier way to incorporate the aesthetic of stone without a full exterior rebuild.
Stone veneers can come from either natural or manufactured stone. Compared to full bed stone, thin stone veneers weigh less and are more affordable and easier to install, while also offering design flexibility, low maintenance, and long-lasting durability.
What is Thin Stone Veneer?
Thin stone veneer - whether natural or manufactured - is stone siding weighing less than 10-15 lbs per square foot. This makes it roughly four times lighter than full bed stone.
Natural thin stone veneer is a thinner cut of building stone, or full bed stone. Like building stone, natural thin stone veneer is one-of-a-kind, because no two pieces are identical. It features imperfections, textures, and tonal variation that has formed over thousands of years. In addition to its authenticity, natural stone also remains a more sustainable building material.
Advances in manufacturing techniques have improved the quality of manufactured stone veneer, allowing it to more closely replicate the uniqueness of real stone. Skilled manufacturers can create a thin stone veneer that's almost indistinguishable from real stone. As the craftsmanship of manufactured thin stone veneer has improved, both options have become more popular for exterior siding.
Benefits of Thin Stone Veneer
Easy to Install
Thin stone veneer is easy to install for builders and even homeowners looking to DIY. In particular, manufactured stone veneers are easier to handle and cut, and can adhere to a greater variety of surfaces, including wood, cement, brick, and metal.
Lower Cost
Thin stone veneer is a fraction of the cost of full bed natural stone. It's also lower weight so it costs less to transport. Given its light weight, thin manufactured stone veneer is also easier to install within a shorter time, making installation costs more affordable too.
Design Flexibility
This benefit applies specifically to manufactured thin stone veneers. Natural stone is inflexible, while manufactured stone veneers are suitable for curved surfaces. Manufactured stone gives the homeowner or builder more options on where to incorporate the stone with its malleability, around a bay window or column, for example.With manufactured thin stone veneer, you can choose from a wider range of design styles. This versatility makes it easier to infuse personality and color trends into your home design.
Manufactured thin stone veneer also offers design options like color, consistency, and texture. Natural stone is only available in color variations found in nature, which can add an unrivaled uniqueness but makes it less versatile than manufactured stone.
Durable and Easy to Maintain
Both natural and manufactured stone veneers are low-maintenance exterior siding materials. Architects, homeowners, and builders prefer to use building products that can withstand the elements. Both natural and manufactured thin stone veneers are durable choices for the exterior of a home.
Conclusion
Thin stone veneer is available with either natural or manufactured stone, each of which has its own benefits. It's a popular choice for builders and homeowners looking to accent, anchor, or enhance the exterior of a home. 
Thin stone veneer can be a better choice than building stone veneer, since it's easier to install, lighter, and less expensive than similar options. Manufactured thin stone veneers are also more flexible than many materials and last a long time with little maintenance. 
For residential exteriors, thin stone veneer is a rising trend. Since stone is naturally occurring, it offers sustainability and durability. Natural stone comes in trending colors and complements today's popular home styles. Stone is a quality outdoor building material that stands up to moisture and weather but also works for indoor accents. 
Visualize your next project and check out our full stone collection here. To discuss installation and design with a team of experienced staff and purchase all the supplies needed for your next project, find a Brickworks Supply Center near you. 
---
You May Also Be Interested In
We Can Help With Your Next Project
Discover the latest + greatest in design trends, industry news & pro tips from pros.
Stone Veneer: To Mortar or Not To Mortar
Stone Installation: to Mortar or Not to Mortar?
Throughout history, stone has remained an essential construction material. The strength and incredible durability of stone make it a preferred choice of building products for supporting a structure's weight and withstanding the elements.
Beyond its supreme functionality, stone also offers an aesthetic appeal unmatched by many materials, making it beloved by architects and designers. With a full range of colors and textures, stone provides an eye-catching addition to the exterior and interior of many homes.
When it comes to installation, stone can be installed to create a mortared or mortarless look. For a mortared look, builders install the stone with mortar layers or joints between each stone highlighting the mixture of shapes. For a mortarless look, builders can use a dry stacked technique, carefully positioning stone pieces on top of each other so that they appear to be laid without any grout. Mortared stone is sturdier and will remain in place over time. Dry stacked stone relies more heavily on gravity and precision, and may be more susceptible to popping out of place.
Choosing to mortar or not to mortar depends on your budget, where the project is located, and how it will mesh with the rest of the home's design.
Where Can You Use Stone?
Builders use stone in creative ways throughout the home, both inside and out. In the interior of the home, you'll find stone often featured in the following ways:
To frame a fireplace
As an accent wall
As a kitchen backsplash
On a kitchen island front
To define a threshold or doorway arch
On the exterior of the home, stone can be used to:
Contrast or complement a brick wall
Decorate a chimney
Create an accent wall
Complement a doorway
The Verdict: to Mortar or Not to Mortar
In the end, when deciding whether to mortar or not to mortar, consider:
Is the project on the exterior or interior of the home? If the project is on the outside of the home, go with mortared stone so it lasts longer. If the project is on the home's interior and not susceptible to harsh weather conditions, mortared stone or dry stacked stone will have a similar lifespan. In this instance, the choice will then depend on the desired design aesthetic.
 
What other design elements will surround the project? Choosing whether or not to mortar depends on the home's overall design profile. Is it classic? Mortared stone with wide joints looks more traditional. Is it contemporary? Mortared stone with narrow joints looks more modern. Is it farmhouse-style? Dry stacked stone evokes a more rustic look and feel.
 
How much do you want to spend? Dry stacking will be a more labor-intensive installation, and thus cost more to install. For budget-conscious builders, mortar may be the better option.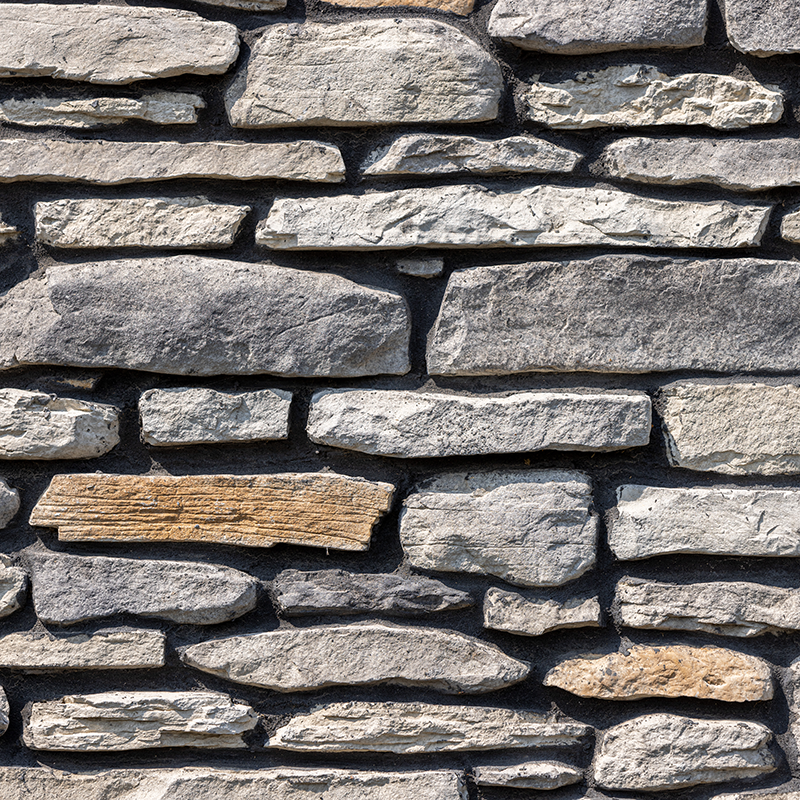 When To Mortar
Mortared stone is typically less expensive to install than dry stacking. With mortared stone, builders have more control over the look of the project and can make it stand out or blend in as much as possible.
If your project will be on the exterior of the home, mortared joints will withstand stronger to harsh weather conditions and the typical wear and tear of nature's elements over time. The mortar will help reduce moisture retention, prevent insects, and keep the stones in place.
Beyond functionality, mortaring offers more options to create a unique look, whether complementary or as a bold statement through use of thin or thick mortar, application technique, and color choices. A mortared stone wall can be a dramatic accent or a complementary frame, depending on the width of the joints, shape of the stone, and color of the mortar.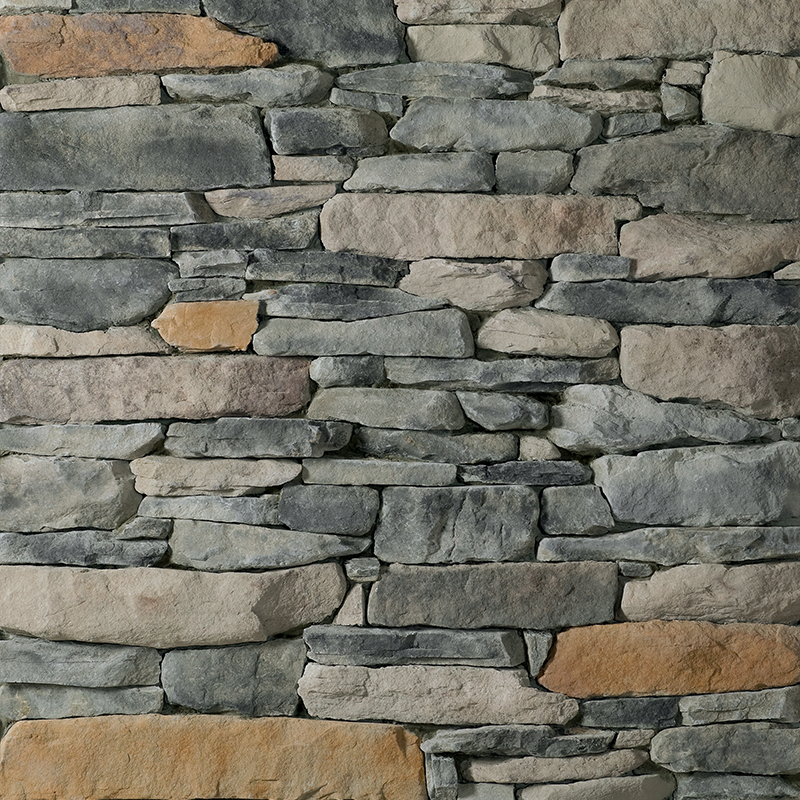 When Not To Mortar
Dry stacking requires more labor and thus may come at a higher installation cost. From precisely cutting the stone so it lays properly, to carefully placing it, this process may also take longer than the application of a mortared stone. The thinner the stone, the more it will cost to cut.
Dry stacking works better indoors, as it will naturally have some spacing between the stones that is not conducive to preventing moisture and keeping insects out. Dry stacked stone may also shift naturally as it reacts with the elements, which could lead to a compromise in the structural integrity of the element being built with stone. In some instances, some mortar may still be used to hold the stone in place. To maintain a dry stacked appearance in this instance, use of a thicker stone is recommended since it can hide the slight use of mortar.
With dry stacked stone, builders also have less control over what the finished product will look like, since the stone will have to fit together to create an interlocking pattern. However, for some projects, a more natural appearance that celebrates the beauty of imperfection is ideal for the aesthetic.
Dry stacked stone is a popular choice for framing fireplaces, defining the threshold or entryway of the home, or as an accent wall. It also blends seamlessly with design profiles like the popular modern farmhouse.
---
You May Also Be Interested In
We Can Help With Your Next Project
Discover the latest + greatest in design trends, industry news & pro tips from pros.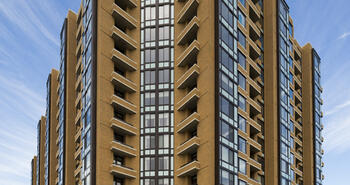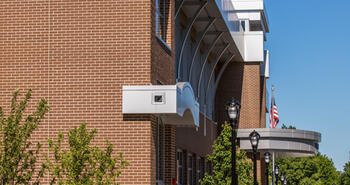 Baxter Brown Wirecut Thin Brick, Thin Tech Classic
Design and Color Trends for 2023
Design and Color Trends for 2023
Today, builders and architects are finishing 2022 projects and predicting what's to come in this new year ahead. What are the colors, textures, and finishes that will stay popular? What will we leave behind in 2023? And perhaps most anticipated, Glen-Gery's debut of their inaugural brick color of the year.
In 2022 we saw calming, nature-inspired tones. Serene shades of blue and green were consistently top color choices. While these soothing tones are expected to stay popular in 2023, warmer, richer colors with earthy undertones will take center stage. In fact, home design experts predict homeowners will become bolder and more creative in their color choices throughout the coming year, even opting for shades of pink and blush.
Design Colors to Expect in 2023
2023 promises to be a year of earth tones and warm neutrals with pops of pink and blush colors. The year ahead may also bring a surprise resurgence of pastel colors in elements like furniture and design accents.
Textures and Finishes to Expect in 2023
If there's one thing architects and designers are sure of, it's that 2023 will be all about texture. When a home's exterior has a monochromatic color scheme, mixing home-building materials like stone or brick can create definition. Mixed-material exteriors add character and interest to a home's outward appearance.
The use of texture inside of the house is expected to continue trending as well. With remote and hybrid work environments, homeowners spend more time at home. The use of texture can help separate indoor spaces. Mixing textures becomes an important element to add depth and interest to open rooms, and define an alcove or nook.
What Trends Have Phased Out?
Home design trends we expect to see less of in the coming year include faux finishes, stark whites and grays, and, in commercial design, smooth textures. Moving forward, homeowners are looking for authentic and realistic materials to add warmth with hygge-inspired colors that evoke a cozy and comfortable feel.
Conclusion
Home design trends for 2023 can be summed up in three words: texture, warmth, and coziness. While warm neutrals and earth tones lead the color palette, adding definition and visual interest with textured finishes will increase in popularity. For both interior and exterior finishes, brick and stone surfaces offer the best option for adding depth and dimension because of their ability to integrate light and shadows, creating variations in textual elements.
View more in the 2023 Style Guide.
---
You May Also Be Interested In
We Can Help With Your Next Project
Discover the latest + greatest in design trends, industry news & pro tips from pros.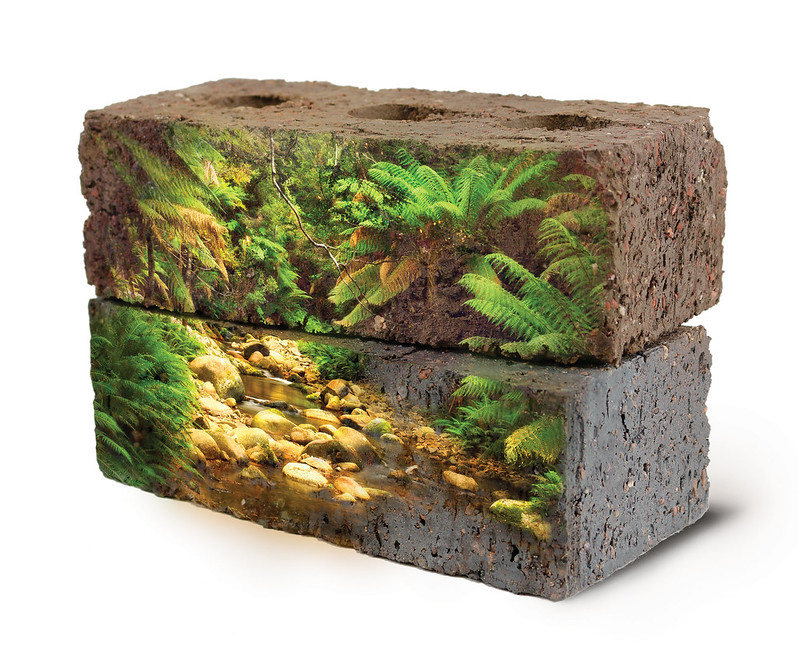 Not only are bricks themselves recyclable, but many also contain recycled content within.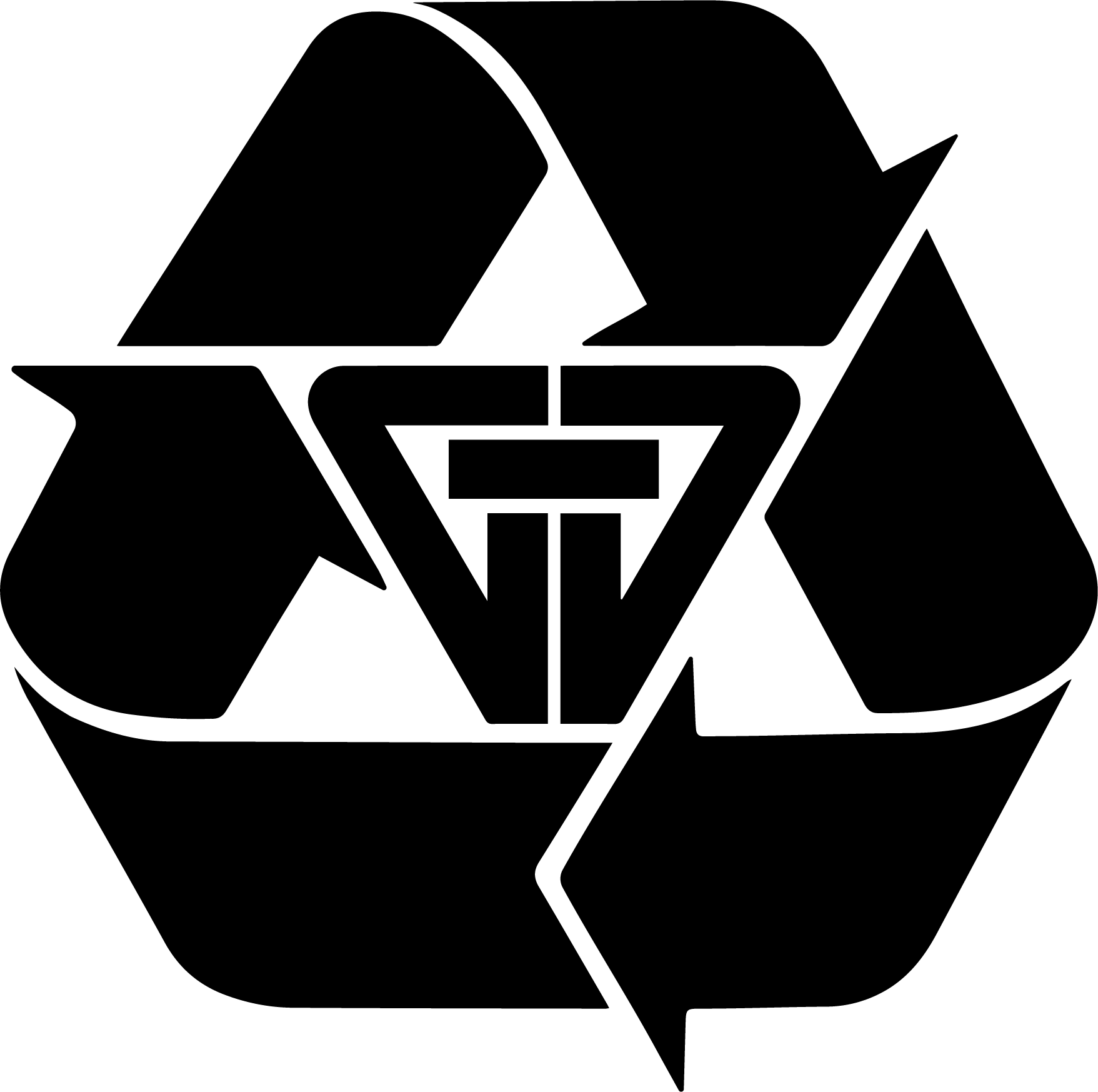 Brick is the healthy, natural building material. 
With today's emphasis on environmentally sustainable living, homeowners and builders are doing what they can to reduce their carbon footprint by constructing houses and buildings from sustainable materials, like brick. Brick is a sustainable building material which is naturally sourced from clays and shales that are mined with methods to reduce environmental impact. Brick is durable and can last for hundreds of years. Brick are fire resistant making them safer than other building materials. Brick is also reusable and can be repurposed for other construction purposes.

Not only is brick the better building product for our planet, they also don't contain harsh chemicals, plastics, or artificial compounds. Many of Glen-Gery's products are manufactured utilizing certain percentages of pre-consumer recycled waste reducing their impact on our environment.
2023 Brick Styles Catalog
---
You May Also Be Interested In
We Can Help With Your Next Project
Discover the latest + greatest in design trends, industry news & pro tips from pros.