For interior or exterior walls in the widest possible range of masonry materials, Glen-Gery provides the complete solutions you need. That includes an extensive line of masonry accessories and wall components. Take advantage of our useful services to masonry professionals as well, including AIA/Contractor seminars and no-charge spec reviews.
Glen-Gery is dedicated to providing complete wall solutions for both interior and exterior products. We offer an extensive line of masonry accessories and wall components to complete your masonry walls.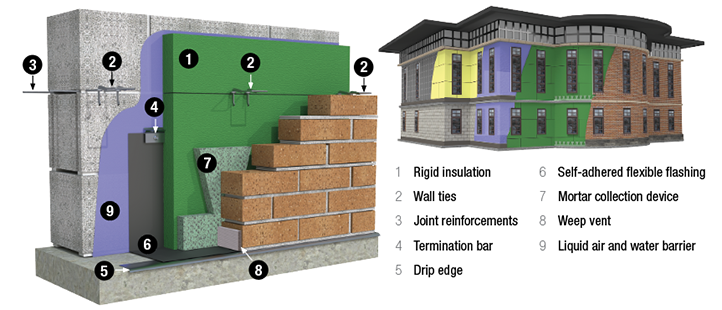 Product Offerings

 

Air / Vapor Barriers

Cavity Wall Drainage Systems

Expansion & Control Joints

Wall Flashing & Related Products

Cavity Wall Insulation

Polyisocyanurate

Extruded Polystyrene

Mineral Wood

Masonry Wall Reinforcement & Anchoring Systems

Masonry Weeps & Systems

Masonry Restoration Products

List of Manufacturers

 

Atlas

Carlisle

Heckman Building Products

Helifix

Hohmann & Barnard

Hyload

Johns Manville

Keene Building Products

Kingspan Insulation

Mortar Net Solutions

Owens Corning

Roxul

York Manufacturing
Products and Services
Glen-Gery draws on technical mastery earned through decades of experience to deliver accessories and supporting services that contribute to the success and profitability of every masonry project.
Thin Tech System Installation

 

To maximize the value of Glen-Gery's outstanding thin wall system, Thin Tech®, we provide training for designers, contractors and distributors. Technical presentations cover all aspects of the systems in depth and hands-on training rounds out the instruction with useful, practical experience.

 
 

AIA Accredited Seminars

 

AIA accredited Lunch-N-Learn seminars developed and presented by Glen-Gery experts provide a double benefit. Each one-hour session expands and reinforces the participants personal knowledge sets while helping maintain AIA certifications. Multiple subjects of serious construction and design impact, from brick selection to masonry cleaning and code compliance to sustainable design, are offered. Together they represent a body of shared expertise, providing real benefit to those in the building design and construction community. Many presentations are specifically prepared with the advanced design and construction professional in mind. Email us today to arrange your next seminar at info@glengery.com.
          On-Site Training

 

Professional training makes all the difference in learning a process or understanding a product in real-world applications. Glen-Gery provides on-site instruction at many of our locations, helping your people excel at their demanding jobs. Email us today for details.

 
 

Plan and Spec Reviews

 

Glen-Gery knows masonry products and processes, and can make certain your project planning is moving forward properly. Glen-Gery provides expert plan and specification reviews at no cost, for an extra measure of confidence that can make a real difference.