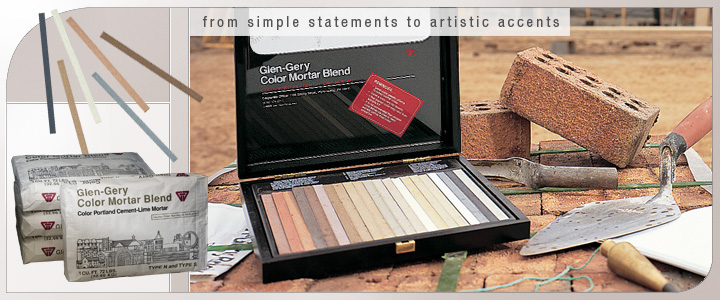 Color Mortar Blend
Twenty percent of a brick wall's surface is mortar and the effects made possible by colored mortar can be truly transformative.  Our colored mortar embodies all the quality associated with standard mortar, but in daring new hues that command admiring attention.
The use of this often-overlooked visual resource can be a touchstone for truly creative architectural design.  The right mortar color can blend with and accent the brick itself, bringing that dominant shade to the fore. Alternatively, mortar can be cast in strong contrast to the brick facing to produce unusual and memorable visual effects. In any of our striking shades, our colored mortar can remake that crucial 20 percent – from everyday to extraordinary.
Glen-Gery makes 20 ready-made mortar colors, plus an unlimited number of custom colors. Glen-Gery Color Mortar Blend is made from the finest Portland Cement, lime and approved pigments. It meets both BIA-MI Type N, and ASTM-C270, Type S specifications and is the only mortar type recommended by the Brick Industry Association, as well as other brick masonry experts.
Glen-Gery Color Mortar Blend is not only beautiful and cost-effective, but offers many other benefits:
Strong compressive strength
Stronger bonding strength
Better rain penetration resistance
Excellent workability
No field mixing
Predictability from batch to batch