For more than a century, Glen-Gery Thin Brick veneers bring the warmth and strength of traditional brick to the widest possible range of projects. And its Thin Tech® Masonry Support Panel provides the perfect mounting system for thin brick and other masonry specialties.
Thin Tech enhances the usefulness of brick veneer, and expands its applications in new directions. Offered in the traditional Classic and high-performance Elite series, each are tailored to the needs of specific applications
.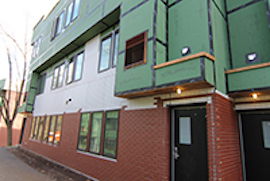 Thin Tech Classic offers the thinnest, most resilient masonry veneer support structure specifically designed to accommodate thin brick. The Classic series works in conjunction with traditional mortar to secure the veneer. Thin Tech Elite features all the advantages of the Classic series, but with enhanced product performance: superior drainage, ventilation, pressure equalization and bond strength.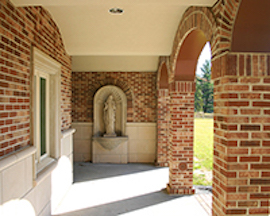 Both series are constructed with high-grade architectural steel and galvanized thermal coating to provide the ultimate in durability and strength. And their lightweight design reduces footing and lintel requirements, as well as labor and installation costs. (Thin Tech is the only panel of its kind to offer a built-in weep system for moisture drainage.) Both panels are also available in multiple support tie face heights allowing for maximum design flexibility for use with thin brick, thin tile & thin stone applications.
Thin Tech also supports stone veneer and tile, making it the most versatile architectural mounting bracket system available. Glen-Gery Thin Tech products are offered with extended warranties lasting up to fifty years. Architects and contractors nationwide trust Glen-Gery Thin Tech for their most demanding requirements in architectural veneer mounting.
Thin Tech Classic & Elite Series Features & Benefits
G-90 galvanized & thermal set coating
Provides barrier rust prevention
Light color helps reflect and evenly distribute heat

Stucco embossed texture
Provides a built-in weep system on both sides of panel for moisture control
Creates greater surface area for maximum adhesion between veneer and panel

26-gauge architectural grade steel
High fastener pull-through strength for panel support and integrity
Harden steel sheets help brace wall, minimizing wall racking
Similar coefficient of thermal expansion as thin veneer and mortar
Allows fastening anywhere through the panel for even weight distribution or loading on the wall, using industry standard fasteners
Lightweight design
Reduces footings and lintel requirements
Cost-efficient wall design
Reduced labor costs

The Elite Series provides a true screen-drained wall system with the following added features:
Superior Drainage
Superior Bond Strength
Superior Air Flow and Ventilation
Superior Pressure Equalization
Plus Rain Screen Technology