MSC Raffle Entry
Status message
Debug: Could not apply image style favorites. in Drupal\twig_tweak\TwigExtension->imageStyle() (line 1050 of modules/contrib/twig_tweak/src/TwigExtension.php).
Debug: Could not apply image style favorites. in Drupal\twig_tweak\TwigExtension->imageStyle() (line 1050 of modules/contrib/twig_tweak/src/TwigExtension.php).
Debug: Could not apply image style favorites. in Drupal\twig_tweak\TwigExtension->imageStyle() (line 1050 of modules/contrib/twig_tweak/src/TwigExtension.php).
Speaker Series: Demystifying Masonry Anchors with Darryl Kegley
---
---
Demystifying Masonry Anchors: A Guide to Getting it Right Every Time
This course provides simple, but detailed guidance for choosing masonry anchors that provide the best performance and compatibility with other wall assembly components. overview Building code requirements that determine the anchor types for various masonry wall applications are identified. Characteristics of different anchor types are compared and recommendations are given for attachment to wood stud, steel stud, CMU and concrete backings, based on consideration of material movements and air space dimensions, as well as they types of membranes and continuous insulation.
Learning Objectives
1. Review appropriate anchor types and methods for anchoring masonry to wood and steel studs.
2. Identify proper anchors for masonry with continuous insulation.
3. Discuss options for anchoring full bed depth stone veneer to stud and CMU backings.
4. Compare anchor designs and options for attachment of masonry veneer to CMU and concrete construction.
Speaker Series: Exterior Insulation: Advanced Perspectives
---
---
Exterior Insulation: Advanced Perspectives for Fire, H2O, and Thermal Performance
Atlas Wall 05 Provider J522Design practices in framed wall construction rely largely on exterior insulation to comply with current energy codes and continuous insulation requirements. New challenges accompany this paradigm shift, including implications forNFPA285 compliant wall assemblies, tolerance to wetting events, and the continuity of thermal layers. This presentation examines the performance of exterior insulation in response to the demanding conditions found in modern rain screens and masonry veneer cavities. Particular emphasis is placed on NFPA285 compliance, thermal bridging, moisture transport, and the effects of wind-washing in ventilated rain screens. These advanced perspectives will empower professionals to design, specify, install, & achieve the benefits of exterior insulation while avoiding its unintended consequences.
Learning Objectives
1. Understand current building code requirements and testing methodologies for fire propagation and smoke development. Given assembly testing following the Grenfell tragedy, attendees will better understand fire propagation in relation to actual material properties and performance.
2. Review material properties governing moisture and air performance as they pertain to conditions encountered in rain screens and masonry veneers so as to best understand the performance characteristics of insulation specification choices.
3. Understand conditions that pose unique challenges, including multiple drain planes, drainage efficiencies, increased water absorption, and water vapor transmission. Recognize risks associated with exterior insulation when used in combination with cavity insulation, interior vapor retarders, and low-perm water-resistive barriers.
4. Understand the effects of wind-washing and convective heat loss in modern rain screen systems. Identify and prevent conditions that jeopardize the thermal insulation layer, which may in turn affect moisture transfer and overall wall performance.
Fired Up! Second Kiln Ignited at Glen-Gery's Mid-Atlantic Plant to 

Keep up with Demand for Wood Molded Brick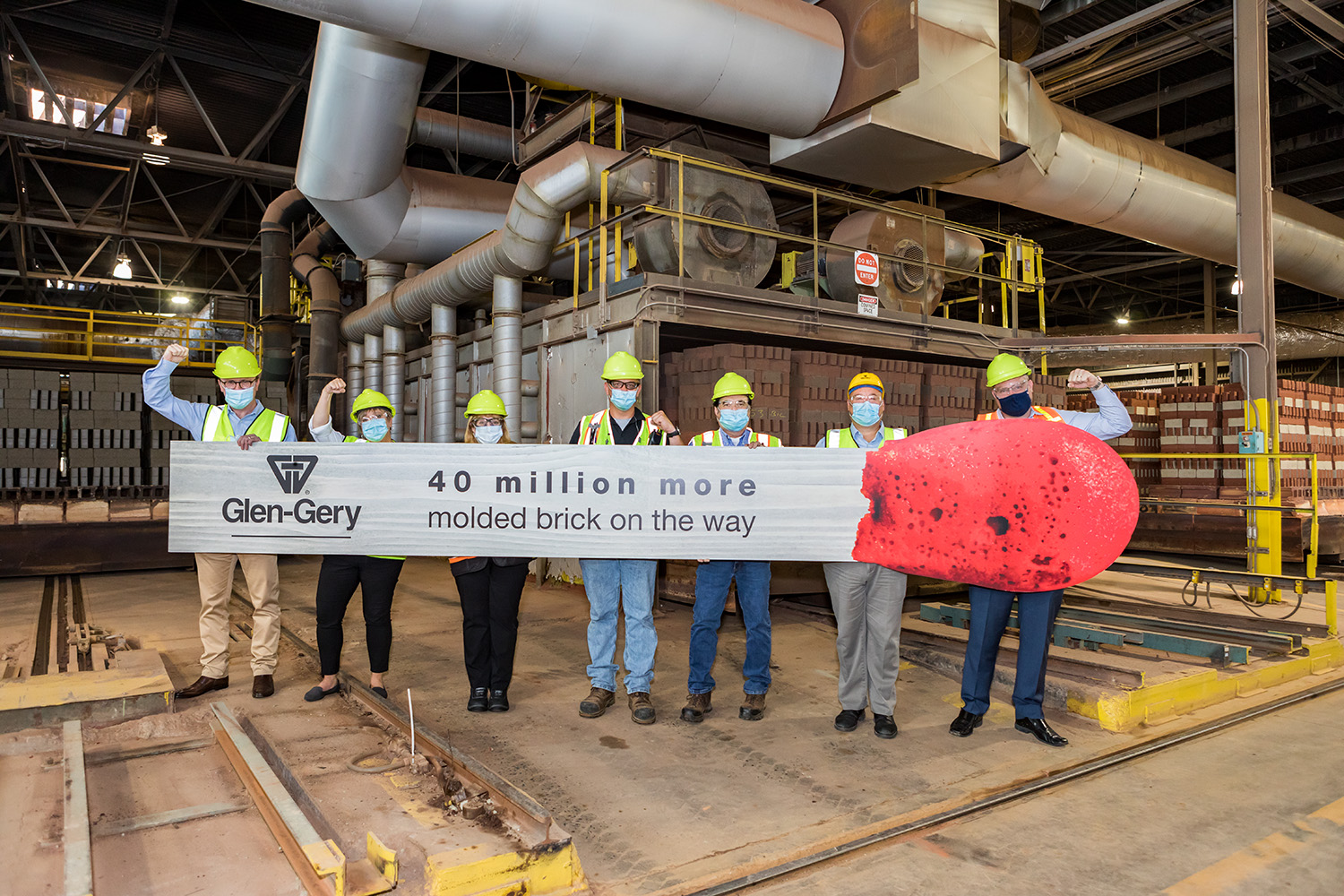 WYOMISSING, Pa. – July 14, 2020 – Demand for Glen-Gery's wood molded brick, including the well-known Cushwa brand, continues to grow as architects and designers utilize more brick for unique design opportunities. To keep up with this demand, Glen-Gery has fired up its second kiln at the Shoemakersville, Pennsylvania facility.
The second kiln will produce an additional 40 million molded brick per year and has created 30 new jobs at this facility. "We're pleased to be able to create employment opportunities for the hard-working people of Berks County while filling demand for our products," said Mark Ellenor, President Brickworks North America.
Innovative design techniques by architects and improved product development by Glen-Gery has led to this increased demand. "Brick is back", said Ellenor, "Modern design is trending toward brick because of innovative product development and the availability of unique colors and textures that last forever."
Glen-Gery is the largest manufacturer of wood molded facebrick and shapes in the United States. Click here for more information on Glen-Gery's molded brick collection. 
About Glen-Gery
Glen-Gery, part of Brickworks Limited of Australia, is a premier brand and award-winning manufacturer of brick and stone products, and a distributor of in-house manufactured and globally sourced exterior/interior building products. Through expansive manufacturing and sales facilities, and a dealer network across North America, the company offers a broad product portfolio, when and where needed, to meet the growing demands of the building industry. Founded in 1890, Glen-Gery is headquartered in Wyomissing, Pa. www.glengery.com
Speaker Series: Designing with Glazed Brick for Style and Performance
---
---
Aesthetics and Performance Capabilities of Glazed and Surface Coated Brick Products
The durability of clay brick and the beauty of ceramic glazes have been combined for millennia to provide accents, highlights and entire facades of many iconic buildings of distinction and prominence. Today, brick coated with glazes and engobes continue to provide and extend the palette of brick colors and textures beyond the traditional, and provide the almost unlimited variety in aesthetics that designers expect. Many designers have yet to fully discover or understand the design capabilities, material characteristics and installation methods that provide superior performance in a wide variety of building applications from subways and schools to prisons and palaces.
HSW Justification:
This program incudes information related to: 1) the physical properties required by ASTM and building codes for brick 2) building code requirements for masonry veneer 3) industry recommended detailing that enhances resiliency and promotes health and safety by ensuring that water is managed properly and
Learning Objective 1:
Compare physical property requirements and characteristics of ASTM standards for glazed and surface coated brick.
Learning Objective 2:
Identify applications that are enhanced by the benefits of glazed and surface coated brick, as well applications for which they may be inappropriate.
Learning Objective 3:
Apply design, specification and installation best practices that promote optimal appearance and durability performance of glazed and surface coated brick.
Learning Objective 4:
Discuss enhanced water management strategies that are unique to glazed brick assemblies