This unique project is known as the Professional Development and Administration Center School District 59 (CCSD 59). It replaced an underutilized District 59 asset (the site of a long-since demolished school) with a professional development center designed with spaces intended to model the teaching and learning practices expected within the District's classrooms. Public, Private, and Back-of-House program zones were created to meet the District's Professional Development Training, District Administration, and Facility Maintenance space needs. The design solution creates overlapping common (shared) spaces among the zones, fostering spontaneous interactions, small group meeting opportunities, hoteling, and flexible workspaces. Multiple flexible spaces accommodate training groups ranging in size from 1 to over 100, with many options in between. Several outdoor spaces are provided as an extension of the training, dining, and spontaneous interaction spaces.
Read more in the full case study. 
Distributor :
Contractors Material Inc.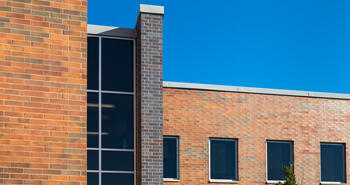 The La Clairiere residence is located in Princeton, New Jersey. La Clairiere features the Roman Maximus brick in black with wood accents that dissolve in the trees from a distance and appears when approaching the residence through the wooden landscape.
The house is designed as two solid masses carefully positioned on the landscape, each containing an assortment of private spaces; the void between these two shifted volumes allows the landscape to run through its core and encloses all the communal activities.
Two large brick façade sectors stand tall and attach to the glass core. These brick sectors have windows and balconies to provide uniformity from the exterior yet uniqueness for each interior space. These volumes are built out of Black Roman Maximus brick chosen for their highly textured, horizontal proportions and the varied lengths that break up any continuity in vertical joints on the façade. The individual unit of brick, which provides depth from close, becomes a part of a larger texture of subtle horizontal grain, forming the mass of the volumes.
With black sills and headers and deep brick returns, the window details emphasize the walls' thickness and provide privacy for the spaces within. These two blocks contain seven bedrooms, the master suite, garage, office, mudroom, and laundry room. The custom windows are carefully calculated to provide natural light and views while maintaining a sense of privacy and protection.
In sharp contrast to the solid Black Roman Maximus brick, the wood-lined space is capped by large window walls at each end, providing views over the nearby lake. The large glass core of the home includes the kitchen, dining, living rooms, and mezzanine offering elevated views to the lake.
Architect :
Studio PHH Architects
Distributor :
Church Brick
Mason :
Michael Antolino Construction
La Clairiere Case Study.pdf
Princeton, New Jersey
You don't have to be a design expert to create an inviting living space, but with some simples tricks, you can create a home that looks like it's been styles by a pro.
One way to make a room feel more inviting and comfortable is identifying a focal point to anchor the decor and create a natural, beautiful flow. Without a focal point, a space can feel awkward and disjointed. 
These inspirational ideas for using focal points in three popular living spaces can add comfort and beauty that makes you feel right at home. 
Kitchen
As the heart of the home, the kitchen deserves special attention to make it a welcoming space where you can enjoy spending time. Depending on your design, you'll discover there are numerous ways to incorporate a focal point in a kitchen, whether it's bold cabinetry, an island featuring a natural stone countertop or stand-out appliances that make a statement. 
The wall space is also a smart place to draw visual attention. An accent wall is an option if you have the space, but the backsplash is another spot where you can make a big impact. 
Living Room
The main function of a fireplace is to provide warmth, but it's also a perfect element to use to create a focal point that exudes comfort and style. Make your fireplace stand out while also adding an intimate touch by using brick or stone.
As an alternative, you can accent a fireplace with a bold wall treatment. Floor to ceiling brick or stone converts an average wall into an eye-catching focal point, giving a room a natural, yet striking, edge.
From handmade to glazed bricks and everything in between, Glen-Gery's line of more than 600 brick and stone products offers a diverse array of colors, textures and sizes, providing homeowners the ability to emphasize their focal points while also reflecting their desired design aesthetic.
Bathroom
It may be one of the smallest living spaces in a home, but the bathroom sees enough traffic that it's worth making it a visually appealing place to be. Even with a diminutive footprint, the bathroom presents numerous options for a focal point, from an intricate wall material to vibrant lighting fixtures and everything in between. Given their relative size, the shower or tub may be a practical focal point; the vanity offers similar appeal. If you prefer a scaled but equally impactful approach, consider highlighting a smaller element, like a stunning vessel sink, or an unexpected element such as a brick or stone accent wall.
Find more ideas to suit your style at glengery.com.
Create a Look That's Uniquely You
Your home, and more specifically its style, should be a reflection of your personality. Consider a few ways to get started:
Set the mood
Give careful consideration to the overall mood and atmosphere you want to create for your home, both inside and out. Consider contrasting options like a sleek modern masterpiece or a relaxing coastal-inspired sanctuary. Weighing these kinds of options helps point you in the right direction to find the perfect color scheme and textures.
Mood-board magic
Look to magazines and online resources like social media and design blogs for ideas and styles that resonate with you. Browse freely and dream big at first but be sure to review regularly to identify a common denominator. Ultimately this can help you articulate exactly what you want. You can also explore how different products work in your home by using a virtual designer, such as Glen-Gery's Picture Perfect.
The real deal
To get a real-life feel for your new space, visit model homes and design centers, and look closely and critically at the colors and materials used. This can provide a tangible sense of how those styles may work in your home.
Kitchen :
Silverbrook Thin Brick
Bathroom :
Romero Thin Brick
Living Room :
Bayhill Thin Brick