Design Vault Ep. 14 Lorne Rose Architects with Lorne Rose
ABOUT THE ARCHITECT: 
 

 

 

 

Lorne has a true passion for architecture and is inspired by his clients. He loves nothing more than delivering a family the home of their dreams.


Lorne decided at the age of 10 that he wanted to do something in the realm of construction architecture. In order to fulfill this dream he attended the Ohio State University receiving his Bachelor of Science in Architecture. Wanting to pursue his passion further, he went on to obtain his Masters of Architecture at the University of Michigan before establishing his own firm.


Lorne prides himself in being hands on and intimately involved in every residential architecture project that comes through his door. If you were to speak with his many happy clients they would tell you about his:


    •    calm demeanour,
    •    his passion for house design,
    •    his dedication to each project and client and
    •    his brilliant creative vision.

Lorne lives in the Lytton Park neighbourhood of Toronto with his family. When he does have free time he loves to coach hockey, work in his garden and travel. Trips to Europe and Africa provide architectural inspiration and many subjects for his newest passion, photography.


    •    1987 Bachelor of Science in Architecture – Ohio State University
    •    1989 Master of Architecture – University of Michigan
    •    1995 Establish own firm – Lorne Rose Architect Inc. (formerly Rose + Bigauskas Architects Inc.)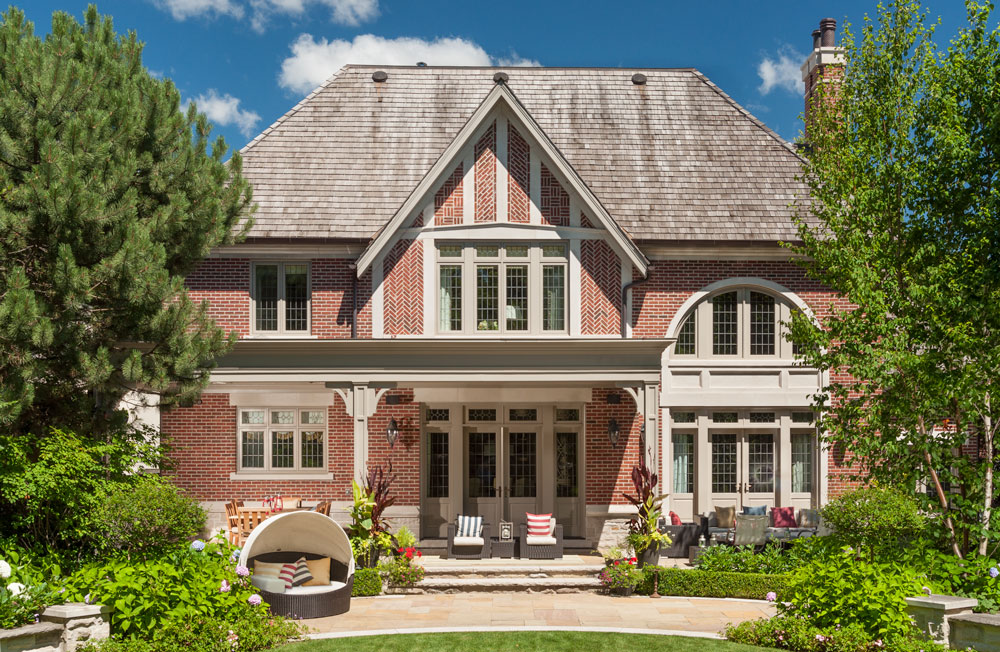 Tudor House
designed by Lorne Rose Architects
TRANSCRIPT
00;00;00;02 - 00;00;05;08
Doug Pat (DP)
Let's go inside the vault. The design vault.
00;00;05;10 - 00;00;25;28
Lorne Rose (LR)
They wanted a spacious two car garage with mudroom, and then they like to entertain. So a combined living room, dining room, and then a kitchen. They love to cook. And then a beautiful two-story family room. That's all done at hundred-year-old occupied a beautiful room that some people think looks like a small chapel.
00;00;26;00 - 00;02;37;16
DP
This is my guest, Lorne Rose. I'll share more about him shortly. Today, we're going to talk about Lauren's Tudor home in Toronto. The neighborhood has a number of esthetically diverse architectural gems from the turn of the century, including a traditional Tudor that served as inspiration. Lauren's Tudor home features a variety of signature Tudor brick patterns from diagonal and herringbone to basket weave.
The traditional half timber board work has been replaced with stone and a carved stone belt course that runs across the front facade, separates stone veneer at the base, a steep gable stance across all facades, giving it order and magnifying the Tudor style. The roof is cedar shingle and the overhangs are traditional. The rear of the house has a spacious covered porch with wonderful wood.
Details, and the opposite side features a carved stone entry and a large wood and glass front door. The front landscape is organized, yet slightly whimsical, with a U-shaped drive. The backyard, in contrast, has an oval shaped lawn area surrounded by garden walls, apple trees and a vegetable garden.
Hi, I'm Doug Pat, and this is Design Vault. Lorne Rose Architect was established in Toronto in 1995 as Rose Pegasus Architects Inc. In 2000, his firm became Lorne Rose Architects. Lorne had an idea long ago at the age of ten, in fact, that he wanted to be an architect. He eventually attended the Ohio State University, receiving his Bachelor of Science in Architecture and his master's degree from the University of Michigan. In his practice, Lorne prides himself as hands on and intimately involved in every residential architecture project that comes through the door down to the last detail.
Lorne's firm has completed many projects, including work in the United States and Canada. Lorne lives in Toronto with his family. He also coaches hockey travels and loves photography. Welcome, Lauren. Nice to have you with us today. So tell us a little bit about Lorne Rose, architect in Toronto. So where are you guys located? Toronto? What's the size of the firm and what type of work do you do?
00;02;37;22 - 00;03;07;16
LR
First of all, thank you for having me. So we are a small critique firm, the architectural side. We are myself and two others. Right now we do have an interior design firm called Empress Design and have recently taken on my side partner who is going to be a partner at the architectural firm. So the architectural side right now it's three of us and that interior design side there is probably about seven, and that supports jobs counting receptions.
00;03;07;18 - 00;03;09;27
DP
And to do only residential work.
00;03;10;00 - 00;03;36;03
LR
We're known for our residential work, but we do do some commercial work, some community work in terms of residential neighborhoods. Oftentimes, it's my residential clients who ask me to do some of their subdivision work or commercial work for them. We are located in Forest Hill neighborhood. Our office is kind of unique. It's really just like a house, except in this case, the kitchen is on the third floor and offices basement ground in second.
00;03;36;05 - 00;03;46;25
DP
So tell us a little bit about yourself. Your original firm was started in 1995, then transitioned in 2000. Tell us a little bit about that and then your role in the office currently.
00;03;46;27 - 00;04;31;15
LR
So I made the job was turning 30. Just got pregnant with her first son and decided it was time to leave. The firm that I was at. Enterprise just set me up in business. Taught me a lot. Worked together with him for many years. He was specialized in new work, high rise work. But I specialized in the residential, and it's really my passion that's dealing with the clients hands on.
The turnaround of projects is a little quicker and not working on a condo for two years or less. So we sort of finally decided that he had no interest in the small residential, which was my passion. So we just separated the first store out of the same office and still I wrote to my new office about six years ago or so.
00;04;31;22 - 00;04;33;24
DP
He's still practicing architecture as well.
00;04;33;26 - 00;04;44;14
LR
Andrew has actually, I think, retired. Some of his associates have taken it over. That first couple, Rafael Augustus, and they're quite successful still friendly with him.
00;04;44;16 - 00;04;56;29
DP
That's great. Now, you had mentioned residential contracts. I'm always curious, most of the jobs that you take on residential projects, how long do they take from kind of start to finish Client walks in the door to they got the keys to the front door.
00;04;57;04 - 00;05;23;01
LR
Right. So typically, I'll tell a client the municipal process in here is quite long. So from the day they hire me to the day they put a shovel in the ground, could be anywhere from 6 to 12 months. Used to take 10 to 12 months to build a house. But since COVID hit, Toronto may be different than other cities that exploded here, we've never been more busy than we were during COVID.
So you're looking at 12 to 18 months to build a home here now.
00;05;23;08 - 00;05;31;11
DP
I mean, it's kind of surprising. As a US citizen, I always hear about how expensive Canada is. And Toronto's extraordinary, isn't it?
00;05;31;17 - 00;06;23;17
LR
It is extraordinary beyond belief. It's surprisingly the fourth largest city in North America. I've been wrong about everything. During COVID, we thought the market would crash. Interest rates were extremely low and people were just buying up homes. People were tired of their own homes. They would renovate or they would actually, surprisingly, they left their neighbors. They decided to tear down their perfectly good house because the cost of getting it aged what we have here called land transfer tax and buy a new home, a tax on new people, said, you know what, I love my street, my neighborhood.
I'm going to tear down this somewhat good home and build a new home. So the industry exploded it very, very expensive to build a house in Toronto because the trades had actually good for too long. It seems to be slowing down a little bit now. But as I said, I'd be wrong about everything. Sure.
00;06;23;19 - 00;06;24;04
DP
You're not.
00;06;24;04 - 00;06;26;20
LR
Alone. I'm not going to make predictions.
00;06;26;23 - 00;06;34;19
DP
Yeah. So today we're going to talk about a Tudor home project that you did. What was the year that it was built and approximately where is it?
00;06;34;23 - 00;07;10;21
LR
So it's in the neighborhood. It was 13 years ago that my clients are again. So we probably started it 15 years ago. It's in a neighborhood or a street that did not have many houses on it. The owner moved a block east. They elected a tutor house that they renovated and decided to do a new Tudor house on this lot.
Since that time, the street has exploded and there are probably six or seven houses under construction on the street, many of which I am doing, which is nice. I don't do also.
00;07;10;25 - 00;07;13;24
DP
So there was nothing on the property when you built that house.
00;07;13;26 - 00;07;30;29
LR
There was an okay Tudor style home in Toronto. Land is at a premium and people are buying perfectly good homes and tearing them down. The home that was there did not meet the client's needs, so tore it down and designed a new house.
00;07;31;01 - 00;07;32;24
DP
And how big was the lot and truck?
00;07;32;24 - 00;07;40;19
LR
So we go by frontage which is very different states. So it was a 64 foot lot by 175 feet.
00;07;40;22 - 00;07;45;21
DP
That 100 foot dimension. Is that the entire length or just the street front?
00;07;45;23 - 00;07;48;05
LR
175 feet long.
00;07;48;12 - 00;07;49;08
DP
Front to back.
00;07;49;09 - 00;08;07;00
LR
Yeah, 64 feet wide. The street is predominately 50 foot lots, so this is probably the widest lot on the street. Right. You went to other 60 footers decided. I think there's a few fourth graders. That's how we call them here. 50 footers for this region.
00;08;07;02 - 00;08;09;22
DP
What were the programmatic requirements for the clients?
00;08;09;24 - 00;09;42;03
LR
Most important things were a two car garage with that mudroom attached garage. Previous house, they had had a detached garage and they never park your car in the back. And as you know, we deal with a lot of snow here, clients. So shoveling the driveway, all that. And then people put junk in there in their garages. So they wanted a spacious two car garage with mudroom and then they like to entertain.
So a combined living room, dining room, the living room here is going a little bit to where a general over these days we're finding people are using them. You have the most expensive furniture and nobody sits in them. They sit in a family room or great room. This family needed a combined living room, dining room because they like to have dining parties, so they could expand their dining table into the living room.
Living room has a piano, just table. That's it. It's mostly dinner just to expand for family occasions, holidays where they host large parties and then a kitchen. They love to cook a great inventory. It's very five feet by 14 feet long, very well organized with an extra fridge, whole wall of spices and sauce charged space, and then a beautiful two story family room.
That's all done at our hundred year old time. There was a dream of the homeowner to do a room out of 100 year old, not a pine. So it was all party boards carved and played down to create a beautiful room that some people think looks like a small chapel.
00;09;42;05 - 00;09;44;08
DP
So how many square feet is the house total?
00;09;44;16 - 00;09;57;06
LR
The home is about 5000 square feet, four bedrooms for best two children. The wife was from the States, so they often have family ties to the business suite at all. Work lunch.
00;09;57;09 - 00;09;59;27
DP
That's awesome. A homework, lunches get used.
00;10;00;01 - 00;10;07;21
LR
It did before the kids moved out. And now she's fighting the headstone for doing some of his hobby work.
00;10;07;23 - 00;10;15;22
DP
So in plan. Then when I looked at the elevations of the building, it looks like a large rectangle set, Correct? Or is it way more complex than that?
00;10;15;24 - 00;10;38;17
LR
It is. The floorplan is garage on the left side looking at the home office across the front door and then the window that is the piano area in the living room. There's actually a garden shed at the back which is attached to the house strip and turn into a cabana the car in order to have a pool because they need it.
So it's a garden shed. They like to garden.
00;10;38;19 - 00;10;42;24
DP
So is the site completely flat? No. Unique topographic features.
00;10;42;26 - 00;10;55;08
LR
Pretty much flat. So much so that the homeowner had to do two huge drainage pits to ensure that drainage worked. The area has a lot of clay in the soil, so it doesn't drain that well.
00;10;55;10 - 00;11;04;18
DP
So this next question is going to be interesting because I'm sure it's at least a little different from the U.S. What were the project restrictions like zoning codes, etc.?
00;11;04;20 - 00;11;35;22
LR
There were variances to the bylaw. We were required to have five front side yard setbacks. We have four foot sideboard setbacks. The density in this neighborhood go by 35% of the lot area is what gross floor area we were slightly over. Not very common in the area to go over 35 is antiquated. Most homes are going to be few across the street.
We did renovation on a smaller block, but we were at 90%. It's not uncommon to get the variance for the density.
00;11;35;24 - 00;11;36;24
DP
And how many stories?
00;11;37;01 - 00;12;12;21
LR
Two stories lot of people thought it had for its story. It could have had a third story, but the family didn't need more space. The covered porch was another very important requirement for the family and served them very well during COVID. Like some parts of the United States where people worked as servants of the rules, Canadians, I can say, were quite observant.
So it was a great place. Covered portraits, heaters for entertaining in the fall. Even in the winter, on a warmer day, family could entertain outside with guests, nice barbecuing area, a dining area sitting here.
00;12;12;24 - 00;12;22;29
DP
So tell us a little bit about the style choice. You had said that the neighborhood had a Tudor style home that you really liked before you designed this one.
00;12;23;06 - 00;13;56;28
LR
Yeah, there were some Tudor, a lot of postwar architecture. Toronto is very much influenced by English architecture, especially at the time. But the home that was an inspiration for this one was a much smaller home for us. So village near where my office is, it was a much smaller home that had beautiful brickwork and the Midband was a homage to that house in Forest Hill, where you describe it, is it orange segment carving it would have been done out of wood on the original house.
These beautiful brick patterns which you would see on other homes or so village that really caught my eye. And nobody really replicates properly these days in addition of spores that were carved, details like that on the old Tudor homes from the turn of the century in the revival of these styles are always left out. So we really wanted to do it correctly on this home, and the homeowner spent extra money to do it properly and more authentic.
Subsequent to that, there were quasi replicas of this house that popped up. People chortle when they see something they like. We started emulating it, but I don't take it as a sense to take it as a form of compliment. I didn't invent anything here. I was borrowing from collecting borrowing details from architecture styles in Italy, and I do it with any style in modern or Georgian or French provincial.
I like to use the most authentic details that clients will allow us to afford.
00;13;57;00 - 00;14;02;20
DP
So was there ever any question then in your mind that this House could be something other than brick?
00;14;02;22 - 00;14;29;19
LR
There were examples that I looked at as well, where the second floor rather than brick, you could use some of these patterns in stone, but red brick was dear to the owners liking, and I don't think there was really another option in this item where the house is a stone skirt, the rocks around the house, but the rest of the house's brick.
And while many people do a out of all stone sites and red brick, it allowed us to tie to breaking all the way around the house.
00;14;29;21 - 00;14;39;07
DP
What I think is really pretty when you look at the exterior gables, the half timber construction has become stone. Talk a little bit about that and where have you seen that in the past?
00;14;39;09 - 00;15;13;00
LR
There were some examples I've seen in the city, but for the most part, even on a lot of houses, we knew that our Tudor will have a cornice, detail are winters are harsh or weather is harsh or summers are hot, sticky and we have extremes. The thought of painting wood timbers, half timbers every now and then was not something the homeowner wanted to do, so we suggested doing them out of stone.
There's no way. So we've done that a couple of times. Just to cut down on this. There are some parts that are would not allow this house the stone.
00;15;13;00 - 00;15;26;17
DP
Details on this home are absolutely stunning. This carved front entry left and right. They did this little custom rose after your name. Now, where did you find somebody that does that? I mean, unbelievable.
00;15;26;19 - 00;16;35;22
LR
Funny enough, little story about the limestone on this house. It came from Indiana and were horrible. What I learned during this house is that Indiana supplies great stone. But in the future, I would never let them cut the stone. We have some great stonemasons in Toronto. We actually had to have some of them fix up the stone that was originally carved in Indiana.
But nowadays we ship the blocks out from Indiana and everything is carved here. I learned that on this house. So we have tons of great carvers here. The guy who did this house is Romanian and he worked for a school back in a communist Romania. And so a lot of great talent from Europe. Toronto is a melting pot, as is Canada, people from all over the world.
So there's no shortage of great transport, although I shouldn't say that as they're aging those artisans, the children do not want to follow in their parents footsteps. So I hope it won't be a lost art. But that's where the C and C machines of today computers are allowing us to still allow for those carved rosettes.
00;16;35;24 - 00;16;39;26
DP
So did you have any challenges finding a good brick Mason No.
00;16;39;26 - 00;16;56;08
LR
In fact, shared signature digitally had always been one of the best masons in Toronto, and I asked to take care of during makes my hair usually mostly stone. He didn't really want to do the brick, but when he saw the intricate brick patterns, it grated your brickwork as well.
00;16;56;16 - 00;17;03;26
DP
So Lorne, we were just talking about the brick. Could you tell us a little bit about the color and whether or not it was a special mixture?
00;17;04;02 - 00;17;51;11
LR
Yeah, at the time I was dealing with a gentleman named Isaac Raposo from King Masonry. Now he had an idea. We worked with Isaac for years. It came straight out of the company's work that he was passionate about brick and Stone. So he said to me, Lord, I have this special brick that's being used in university states, and it's Glengarry brick, and it's 85% Shenandoah and 50% Colt 50 3dd It's been used at the university.
It had a nice tonal range, some fire bricks in there, so it wasn't all flat coloring, a great deal of variation on the brick. And I said, Great, let's do it. Isaac was instrumental in suggesting that Brick and other clients have used a similar mix.
00;17;51;18 - 00;18;01;07
DP
So were there any unique construction details using masonry or brick on the home? Anything that you had never done before? Anything that you do a lot.
00;18;01;10 - 00;19;27;06
LR
This was the first time that I used the stone boards at six feet to bring, and it was the first time, I believe, that these different brick patterns on a house. So it was challenging for the Masons. I remember calls about how do you want to do this? Even on the stonework, we had some smoother blocks, but I wanted them chiseled with different patterns on them, really authentic stuff.
I didn't want perfectly aligned joints. I wanted it a little bit. I called it messy, but when it's done perfectly linear, you can spend the money on a real stone. It doesn't look real because it's so perfectly laid up. Bellies were put on a lot of the stones chopping the edges off. It's a little bit of a mess.
Your joint, Chino. I like to call it a rock joint. I was particular about the laying of the stone brick and quite happy with the way it turned out. The chimneys are quite detailed with different patterns as well. And limestone caps. One of the things I like to do is put superior clay chili pots on jumbo ones. One of the details I loved in traveling in England and there would have many chimneys and different clay pots on top of each.
Normally on our homes we put two of the same. I wanted to do something a little more British and mix them up. So each chimney has two different pots on it just for fun.
00;19;27;09 - 00;19;42;15
DP
So when it comes to a lot of these details, brick coursing, etc., do you guys end up doing a lot of a variety of drawings, series of iterations, looking at different patterns and then go out into the field and look at examples that the Mason puts together? How do you guys do that?
00;19;42;22 - 00;20;03;08
LR
That sounds a little more romantic than how it actually happened. I do have some great books on brickwork that I get to reference, but it was more the Mason gene and I just sitting out there and discussing them and looking at what we could really do. Not quite as romantic as drawing it all.
00;20;03;10 - 00;20;11;15
DP
Yeah, but it's a little more authentic in terms of how we used to do things as architects, right? Walk out onto the site, you tell people what to do so.
00;20;11;17 - 00;20;21;15
LR
That Gino is up for the challenge. We laid them out on the ground just to verify. I had ideas of what I wanted, but we did actually draw on that.
00;20;21;18 - 00;20;26;27
DP
So when you drew the building, are you guys using CAD? Are you drawing in 2D or are you drawing in 3D?
00;20;27;04 - 00;20;49;23
LR
I'm a little bit of a dinosaur. I'm going around my office. Who doesn't use AutoCAD? We now use Revit as well. I know how to use it, but every time I come to the computer, that stuff, you get away with it. I have two very talented staff, one staff member with me 23 years. They sort of know how I think that makes the office much more efficient.
00;20;49;26 - 00;20;59;19
DP
So I'm sure Toronto has rules about energy efficiency. Was sustainability an issue when you built the home in terms of the wall cavities, etc.?
00;20;59;21 - 00;22;19;19
LR
There were some things that we did here differently. I think our energy efficiency rules came into play a little bit more after this House would interconnect. But one of the things differently down here, it's normally called psychiatrist's insulation in the walls. In this case, we did two inches of £2 spread foam against the plywood, more airtight and a higher insulation lets you go over four inches a spray for the added impact of going to six inches is not necessarily worthy.
So we did two inches a separate fall and then three and a half inches of fiberglass insulation to give us a little bit higher our value at the time the spray fall thing was relatively new. The building department wasn't sure if there was still a void, how to deal with it still needed paper barrier. You don't necessarily need it anymore.
We did a blended version and built it. Department accepted it, still liked the system. It was cost effective way to get the air tightness and fill the void. Insulation nowadays where champ moving more to at least one inch exterior insulation and air space. Then Brick, our next building code will probably make that mandatory. And that way you don't lose as much thermal value through the stud cavities.
00;22;19;22 - 00;22;28;06
DP
So I know you do a lot of homes. Was there anything that you or your team learned during the process of building this one, designing it and having it built?
00;22;28;09 - 00;22;53;19
LR
Yes. When you specify certain forgeries dressed, let the lumber yard use a different kind of floor choice. There is a few problems with that. But aside from that, things went relatively urban innovation at home and did a great job. One of the things we did that was unique here. I like skylights a lot, but I don't like looking through a skylight well and seeing the clouds.
00;22;53;21 - 00;23;19;21
LR
So we do these lenses, frosted lenses, they look great, except they can get irksome. So there's a mechanical room in the roof here. So through access, through the mechanical room, it's a little boardwalk where the homeowner can't actually open up a door and vacuum the box off of the skylight. Let's just get rid of this box and we'll have the box get in there.
But they do look up. You know, I see books. That's great.
00;23;19;21 - 00;23;28;25
DP
Very creative spoken just like an architect. So you've been an architect for a long time. If you could give your younger self some career advice, what would it be?
00;23;28;28 - 00;23;29;24
LR
Wow.
00;23;29;27 - 00;23;31;21
DP
We're always learning as architects.
00;23;31;23 - 00;23;40;27
LR
That's a great question. It's not an uncommon question, but I've never really thought about it. I'm passionate and love architectural history and I learned a lot from it.
00;23;41;02 - 00;24;13;09
DP
You know, when I went to college, architectural history was a class I had to take, and it wasn't something that I really enjoyed. And ultimately I ended up with a YouTube channel. And all I do, or most of what I did for many years is make videos about historical architecture, right? So you never really know when you're going to use that information and how passionate you might become about something would seem to me, looking at the breadth of the work that you've done online, that you've got a really nice historical background that you're utilizing all the time.
00;24;13;09 - 00;24;21;17
DP
And it would seem to me if I was the younger you, I'd say to you, Look, man, pay attention, because you're going to be using all this information someday.
00;24;21;19 - 00;25;35;13
LR
So it's interesting. It's an architecture school was great. And the worst part about architecture history, which I loved, was that it was an 80 year class which any college students thought was awful and it was like three times a week. And you'd go to this class tired as can be, and the first thing they do is turn off the lights and show you slides.
So it was hard to stay awake, but I never anticipated the stuff that I did see, which was influenced by Peter Eisenman, who was there at the time, was nothing traditional. And just like I say to anybody, architect, just pay attention to trigonometry. Yes, you do use it. Toronto's a very traditional city. If I had lived in another city, I might have done more modern architecture in my career.
Now we're doing a ton of it and I love it. But just like, you know, Picasso was a classical painter before he did, where he did the traditional architecture and studying the masters in scale proportion, that's the talent that somebody gave me that I can see a proportion. I learned it through architecture styles, and then you can apply that to any style.
So I think that's paying attention in those classes as hard as they were when the lights were really made a difference in my career.
00;25;35;15 - 00;25;42;10
DP
Lauren, it's been great to have you here. Thanks for your time. Where can people go to learn more about Lorne Rose, Architect Inc and yourself?
00;25;42;17 - 00;25;52;14
LR
Lorne Rose dot com And it's not a popular name in the United States. It's very popular Canada the sixties it's aloha Annie RC dot com.
00;25;52;17 - 00;25;53;28
DP
Are you guys on Instagram.
00;25;54;01 - 00;26;09;21
LR
We are. I have to say I'm terrible at social media and I should be doing more because a lot of Americans have reached out based on some of the social media I need to concentrate more on. Yes, I am on Instagram and learn search. So yeah, please look us up.
00;26;09;27 - 00;26;14;02
DP
Well, it sounds like you're very busy. It was wonderful to have you here. Thank you so much for your time, Lorne.
00;26;14;04 - 00;26;18;02
LR
Thank you for having me. It's fun.
Read More
Read Less
---
You May Also Be Interested In
We Can Help With Your Next Project
Discover the latest + greatest in design trends, industry news & pro tips from pros.
For all of your project needs, you'll find everything you need at a Supply Center.
Let Us Know How We Can Help!