Design Vault Ep. 1 H-House with Mateusz Nowacki
 ABOUT THE ARCHITECT: 
| | |
| --- | --- |
|   | Mateusz Nowacki is an architect and founder of Everyday Studio. Masteusz received his Bachelor of Architecture from Carleton University and the University of Toronto where he received his Master of Architecture.  Everyday Studio is a collaborative design space dedicated to the research of domestic living prototypes and housing design. Predicated on the belief that architecture of all scales holds the potential to turn the everyday mundane into something wonderful and unpredictable, the studio devotes its efforts to creating spaces that are thoughtful, engaging, and timeless. Its work has been recognized in various architectural media including Dezeen, Dwell, Ottawa Magazine, and GOHBA Housing Design. Mateusz also has professional experience from several prominent Canadian offices, with current work ranging from multi-unit housing, multi-use recreational facilities, and post-secondary institutional buildings.  |
ABOUT THE PROJECT:
Located within a forested community known for its maple tree forest, tranquil properties, and traditional homes, the residence was designed to reference the neighbourhood typology of a 'house with two wings' into a form that established more intimately scaled spaces. Simultaneously, the design sought to reinterpret traditional building materials and architectural language through minimal detailing and interior spaces more directly linked to the landscape. The resulting design is organized into two volumes, with a third elevated volume stacked perpendicularly to form a central, double-height nucleus connected to exterior courtyard spaces on either side. Grounding the design within a familiar architectural language, these minimal volumes use traditional gabled forms clad in natural, tactile materials that provide a timeless character and evoke the surrounding landscape. Wood siding and brick are commonplace for the neighbourhood, yet here the textured clay brick grounds the house to the site and references the vivid maple tree foliage in the fall, while dark walnut wood battens recall traditional window shutters. The h-shape configuration allows the home to fit comfortably within the neighbouring context while offering each wing a unique relationship to the site via a sheltered lanai at grade and an upper-level cantilevered terrace facing south.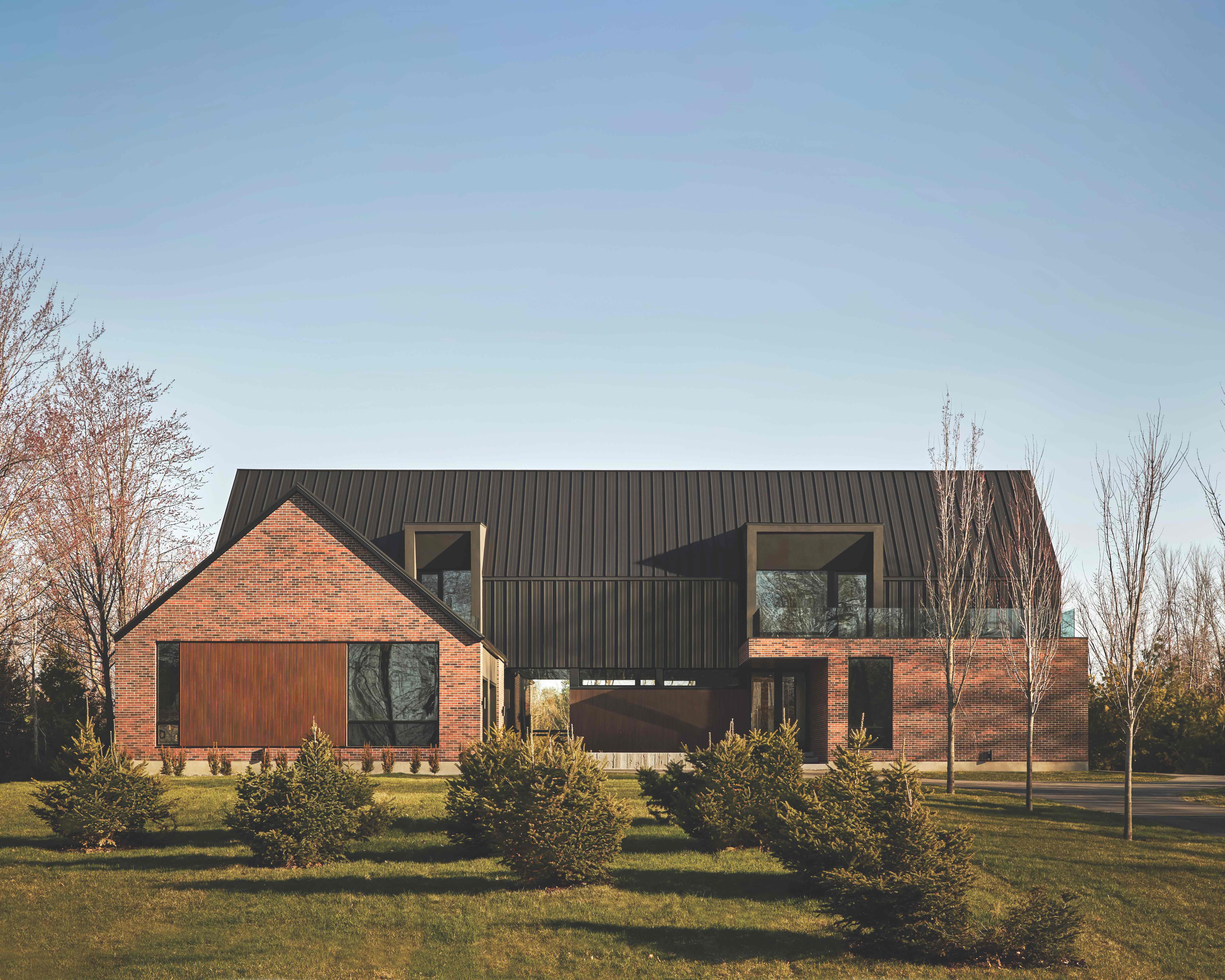 ---
You May Also Be Interested In
We Can Help With Your Next Project
Discover the latest + greatest in design trends, industry news & pro tips from pros.
For all of your project needs, you'll find everything you need at a Supply Center.
Let Us Know How We Can Help!