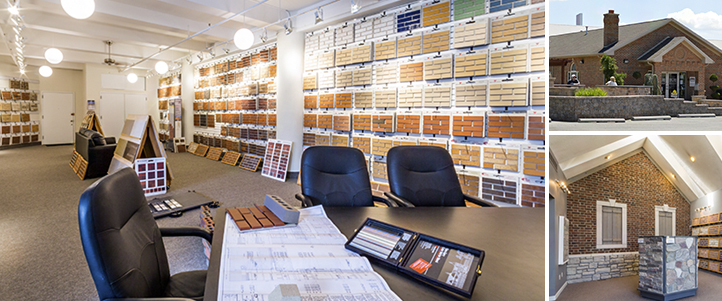 Whether you're building a new home or planning a special project like a patio, walkway or fireplace, you'll find everything you need – including sand, mortar and tools – at a Glen-Gery Masonry Supply Center. The professionals there offer expert advice and free instruction on design and installation.
At a Glen-Gery Masonry Supply Center you will find the complete line of over 500 Glen-Gery genuine brick products, including Authentic Handmade, molded and extruded face brick and pavers. They also carry Glen-Gery Thin Brick that offers the same beauty and durability of full size brick, yet weighs considerably less. Thin Brick is perfect for redecorating or renovation projects.
For hardscaping projects, ask for Glen-Gery genuine clay brick pavers. Tough, durable and stain resistant, genuine brick pavers combine in decorative bond patterns for stability and strength as well as add beauty, individuality and value to your home. A variety of concrete pavers are also available from a myriad of manufacturers.
If you're a homeowner, do-it-yourselfer, general contractor or mason, remember, a Glen-Gery Masonry Supply Center is one-stop for all your project needs.
Visit a Glen-Gery Masonry Supply Center for all your project needs: genuine Glen-Gery face brick and clay pavers, Glen-Gery color mortar, masonry supplies and tools, masonry and cleaning products, hardscape products, veneer stone, flashing, wall ties, wall systems and retaining wall systems, paver restraints, concrete block, flue liners, Glen-Gery Personalized Brick, decorative accessories and more!
Locations
HARRISBURG
Turnpike Industrial Park
2750 Commerce Drive
Middletown, PA 17057
(717) 939-6061 
KANSAS CITY
336 S. 42nd Street
Kansas City, KS 66106
(913) 281-2800 
LEHIGH VALLEY
1960 Weaversville Road
Allentown, PA 18109
(484) 240-4000 
BALTIMORE
4150 Hayward Avenue
Baltimore, MD 21215
(410) 466-5600
MANASSAS
9905 Godwin Drive
Manassas, VA 20110
(703) 368-3178 
READING
200 Hartman Road
Muhlenberg, PA 19605
(610) 939-1721 
MICHIGAN
6315 Highland Road
Waterford, MI 48327
(248) 666-2411 
WATSONTOWN
423 Susquehanna Trail
Watsontown, PA 17777
(570) 742-4721
NEBRASKA
13801 Industrial Road
Omaha, NE 68137
(402) 408-5555
MINNESOTA
520 W. 86th Street
Bloomington, MN 55420
(952) 888-9239
WEST DES MOINES
101 Ashworth Road
West Des Moines, IA 50265
(515) 224-4110 
SIOUXLAND
501 4th Street
Sergeant Bluff, IA 51054