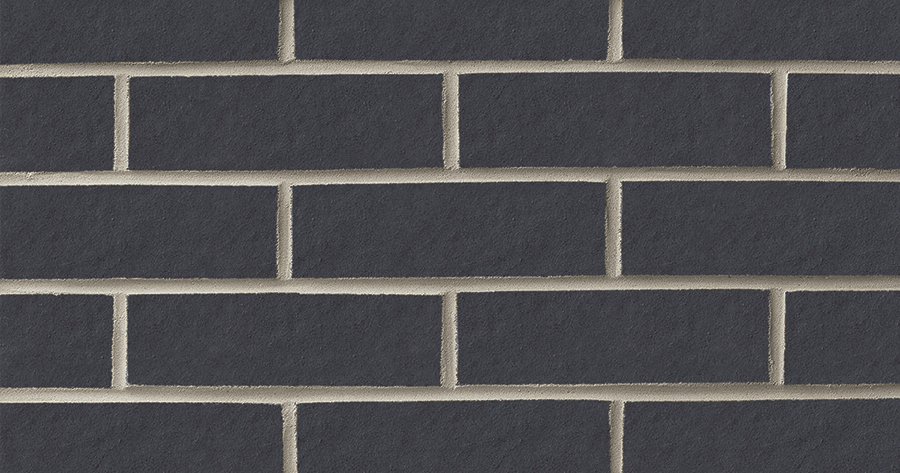 Shadow Black Glazed
Contains Recycled Content
| Special Order | T | H | L | | Brick per sq ft |
| --- | --- | --- | --- | --- | --- |
| Standard | 3-5/8 | 2-1/4 | 8 | in. | 6.55 |
| Engineer Modular | 3-5/8 | 2-3/4 | 7-5/8 | in. | 5.76 |
| Engineer Standard | 3-5/8 | 2-3/4 | 8 | in. | 5.50 |
| Norman | 3-5/8 | 2-1/4 | 11-5/8 | in. | 4.57 |
| Econo | 3-5/8 | 3-5/8 | 7-5/8 | in. | 4.50 |
| Utility | 3-5/8 | 3-5/8 | 11-5/8 | in. | 3.00 |
| Modular | 3-5/8 | 2-1/4 | 7-5/8 | in. | 6.86 |
Unit Specifications
Glen-Gery glazed bricks are manufactured to conform to American Society for Testing and Materials (ASTM) Standard Specification C 1405, Class Exterior, Grade S, Type 1, Division Solid (≤ 25% void). These products also conform to the requirements of ASTM C1405, Class Interior. Hollow core units meeting the requirements of ASTM C 1405, Division H40V (> 25%, ≤ 40% void), may also be available on special order. Inquiries should be made about the availability of products which conform to the requirements of standards other than ASTMC1405.
Dimensional Tolerances
Glen-Gery solid glazed brick are manufactured to meet the tolerances cited in ASTM C 1405, Grade S. Generally, the average size of the brick delivered to the site will be greater or lesser than the specified dimension. These differences are caused by the inherent variations in the raw materials and the day-to-day variations of the forming, drying, and firing processes. If the project detailing requires precise vertical or horizontal coursing, inquiries should be made regarding the dimensional variations which might be expected. It may be necessary to gauge the brick one or more times in these circumstances. 
Finishes
Glen-Gery glazed brick are manufactured with a smooth (die-skin) body with only smooth, mottled, or speckled finishes. Note that only one face of each glazed brick is finished. If both a finished stretcher face (standard production) and a finished header are required on the same brick, a quoin (S2 shape) must be specially ordered. Other combinations of finished faces are also available on special order. Many of these combinations are shown in Glen-Gery's Brick Shapes Catalog (and on page 3 of this document).