Weather-Resistive Barrier
Where optimum barrier protection is required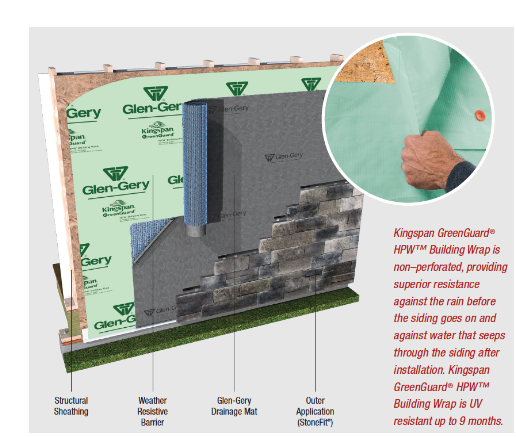 Glen-Gery's WRB is a non-woven building wrap with a breathable polyolefin coating that performs as both a water-resistive barrier and as an air barrier in accordance with the International Building, Residential and Energy Codes.
It is an excellent secondary weather barrier that helps deflect water and wind-driven rain, yet is designed to breathe to assist trapped moisture
vapor to escape, helping walls dry faster.
In residential construction the siding is often installed directly against the weather-resistive barrier. Once moisture gets past the veneer it has nowhere to escape. This will often lead to call backs for moisture-related issues, such as mold and rot, which become costly for both the homeowner and the contractors involved. Glen-Gery Weather-Resistive Barrier is the clear choice to avoid these moisture-related issues.
Benefits
UV resistant up to 9 months
Provides advanced moisture management
Non-woven construction
Air barrier
Water-resistive barrier
Residential and commercial applications
Breathes to allow moisture vapor to escape
Glen-Gery WRB
Roll size: 54" x 150"
Roll sq ft: 675 sq ft
Roll weight: 14 lbs.